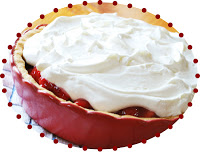 We had this for dessert tonight and I thought I would post it.  When we lived in Texas, we always shopped at HEB.  They car­ried a straw­berry pie that I had to buy every time we shopped. I had to learn how to make it.   In our 2011 issue of Sea­sons at Home Mag­a­zine, we shared how to make a short­bread crust for this.  Just use a pre-made gra­ham or short­bread crust here, it's still yummy and a bit quicker!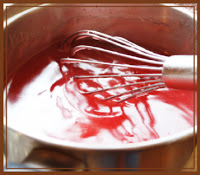 Crush 1 cup of straw­ber­ries with a fork in a small saucepan.  Add 1 cup of water and bring to a boil.  Lower heat and sim­mer for 3 min­utes.  Remove from heat and strain.  Return juice to the pan.  In a sep­a­rate small bowl whisk together 3/4 cup sugar with 4 Tbsp. of corn starch.  Sprin­kle over straw­berry juice while whisk­ing.  Bring back to a boil and cook until clear and thick.  Chill.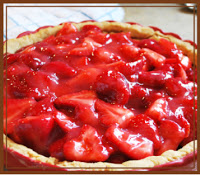 Use a 9″ pre-made short­bread crust.   Com­bine 4 cups sliced straw­ber­ries with the chilled straw­berry sauce.  Pour into short­bread crust.  Top with 3 cups of fresh whipped cream and chill! Such a yummy dessert for a warm day!

Enjoy, Theresa