Plack­ets con­fused me ter­ri­bly. I finally got it and now can make a placket for any gar­ment. My ex. When you use but­tons down the back of a dress, a nice lit­tle placket is stitched where the skirt top meets under the but­tons. Shirt cuffs are another exam­ple. Where you but­ton the cuff is where your placket is.
1. This is the back of a dress skirt, not yet attached to the bodice, you do that after. I cut an open­ing of desired length; 3 in" is usu­ally big enough for my girls. The skirt is inside out. Open the placket cut flat as shown.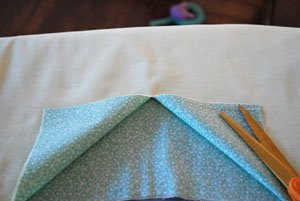 2. The width of my plack­ets are 2″, mea­sure the length of the placket and cut a match­ing strip from your dress fabric.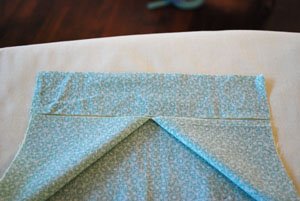 3. Turn the skirt over on top of the placket, so right sides of the skirt and right sides of the placket can be pinned in place.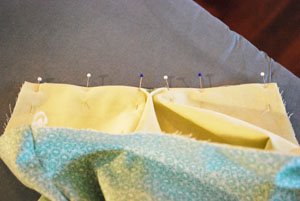 4. Take to the sewing machine and with match­ing dress thread, sew a seam allowance that will be able to catch the mid­dle cut and secure it. Make sure your dress is lay­ing FLAT and the cut will almost be even with the raw edge.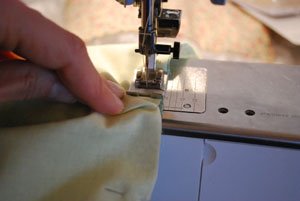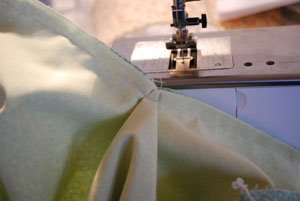 5. Flip over and iron up, make a hem on the strip, and turn over to meet the inside sewing line. I don't give the hem mea­sure­ment because it may not meet the line you have sewn, that will depend on the seam allowance. Adjust the hem to fit the line. I found it much eas­ier to make my own mea­sure­ments for my needs, instead of fol­low­ing a pat­tern guide : )!
Do you see how it is pinned? I keep my left hand under the skirt to grab pins and top stitch this neatly with a match­ing cot­ton thread. It comes out much straighter than if I was sewing from the inside.
6. Your placket is fin­ished! Wasn't that sim­ple? We attached the bodice here, and all that we need to do is hem under the lin­ing and slip stitch, then add our pretty pearl buttons.