A dear friend and I have been talk­ing about Star­bucks, and gen­er­ally how we can't afford it. It is really true. Even if you can afford $4.00 for a cup of bean water and foamy milk, going too often is a rot­ten waste of money! This is of course com­ing from a Star­bucks guru (we love Star­bucks). I'm a shaken tea addict.
So she started dig­ging around for some good cof­fee recipes and sent them to me to mess around with. This after­noon, Mom and I decided that we needed a lit­tle perk, so I dug out the Vanilla Bean Frap­puc­cino recipe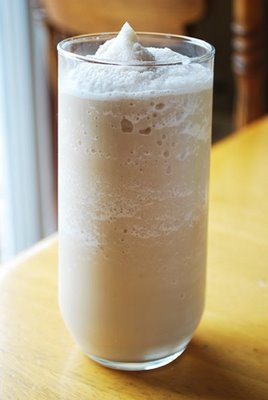 Vanilla Bean Frappuccino
I only changed a cou­ple of things in the recipe. I decreased the amount of sugar, added more ice cream and added vanilla extract too. This is pretty basic, throw the fol­low­ing ingre­di­ents into the blender and turn it on.
2 Tbsp. sugar
1/2 tsp. vanilla extract
1/2–1 cup strong brewed cof­fee, chilled
4 small scoops vanilla ice cream
3/4 cup ice cubes
It came out quite yummy! I have been crav­ing some­thing with choco­late today, so I stirred in a table­spoon of unsweet­ened cocoa pow­der into mine, and some choco­late chips. Just like a Java Chip Frap­puc­cino..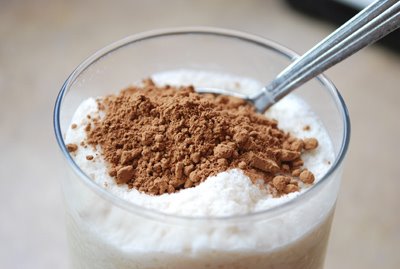 Thanks Michelle!
Share!
0
1
0
0