I'm always looking for hot appetizers for my gatherings. It doesn't matter if I have a recipe box full of hot appetizers. I always try to get some fresh insight, something more unique than a meatball as one of the tastiest things at a party! Below are 10 amazing hot appetizers by some very talented food creators – sure to delight guests at your next party.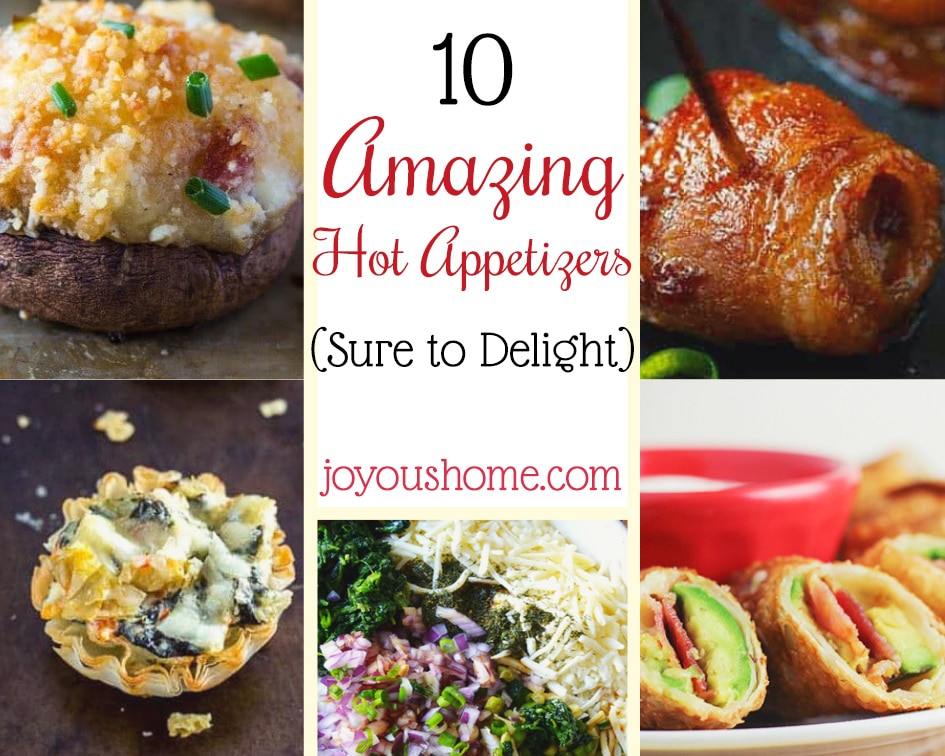 Just click on the image or the link in the text to go to the original recipes! Enjoy.
10 Amazing Hot Appetizers Sure to Delight
1. Easy Avocado Bacon Egg Rolls
Mercy! These have two ingredients I truly love! Avocado and BACON. From Home Cooking Memories, these made number one on my appetizer list.
2. Cheesy Olive Tapenade Crostini
I love a good mix of chopped up bites on a baguette, my total favorite to make at a party. This hot appetizer from Meaningful Mama is a fabulous find, and I think, very unique.
3. Bacon Wrapped Water Chestnuts
OH BOY. These will disappear quickly. I agree with Simply Stacie, I'll eat most anything if you wrap it in bacon.
4. Easy Shrimp Dip
The men in our house love any type of seafood dip. This delicious shrimp dip from NellieBellie will be a crowd pleaser! You can make this hot or cold!
5. Hot Spinach Dip
Spinach dip is one of those childhood memories to me. This dip has tons of flavor (without using a soup/dip mix), and it's baked to cheesy, yummy perfection! Find this one here on Joyous Home!
6. mini parmesan spinach phyllo cup appetizers
Divine! I love tiny appetizers. Plating Pixels has put together these lovely little phyllo bites. This is a must for your appetizer list!
7. Gluten Free Stuffed Mushrooms with Bacon
Stuffed mushrooms are really delicious. This appetizer by Noshtastic offers a gluten free, dairy free bite - and of course, my favorite, bacon.
8. White Queso Dip
White queso dip is an absolute favorite at our house. This one by CincyShopper has a good amount of heat - which we love.
9. Cheesy Bacon Twice Baked Potatoes
10. Caramelized Onion, Bacon and Gruyere
We are trending with that one naughty ingredient, bacon! A great hot dip from Sweet ReciPeas!
Happy Appetizers! Theresa