Playful Pumpkin Patch Construction
Ready to finish the runner? Attached are the instructions to piece together our quilt. I've included our video page that has some core quilting videos used in another pattern. 
Now here's the directive - I'm going to make a 'showcase' topic on the 21st. Post your finished runner there once the topic goes up. In between, feel free to let us know how you're doing, or ask questions - and if you want to embroider, do it! Don't feel rushed. I'm just now starting my embroidery - just on one block, but I'm doing it. Have fun!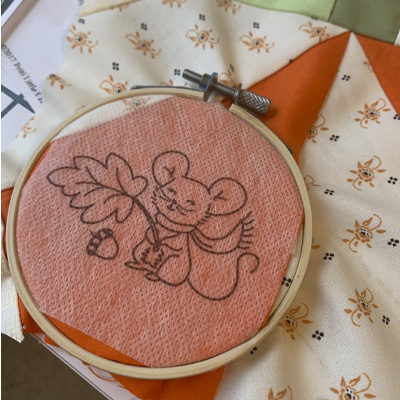 Topic starter
Posted : 10/09/2020 12:36 pm
what is the unfinished size of the 4-patch
Hi Patti!
So, the 1 3/4" blocks sewn together make a 3" block. Did I answer this correctly? I'm not sure if that's what you're asking? ☺️
Topic starter
Posted : 11/09/2020 1:36 am
Were you wanting to just make the block instead of 4-patch?
Topic starter
Posted : 11/09/2020 1:49 am
thought I would use the strip set method and sub cut into the sizes needed
That's a great idea Patti!
I didn't think to do it that way, my brain on overload 😂 Happens when you have 5 kids asking questions at the same time 😜
Topic starter
Posted : 11/09/2020 5:36 am
Thought I would share my progress today! Section one and two done, section 3 has my mousey so I'll finish that up this weekend. How's everyone else doing?
Topic starter
Posted : 11/09/2020 12:20 pm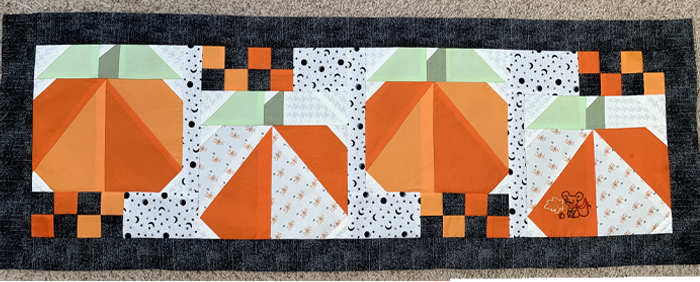 Got the quilt top ready to layer and quilt today! I want to mention that I made 2" borders instead of 1 1/2". It doesn't change much, I just wanted a wider border.
Here's a closer look of the mouse... quotes from Catherine, Called Birdy came to mind while I stitched. (Karen Cushman) You'll have to read that charming book to your girls to find out what I mean. Realized I need stronger reading glasses to stitch!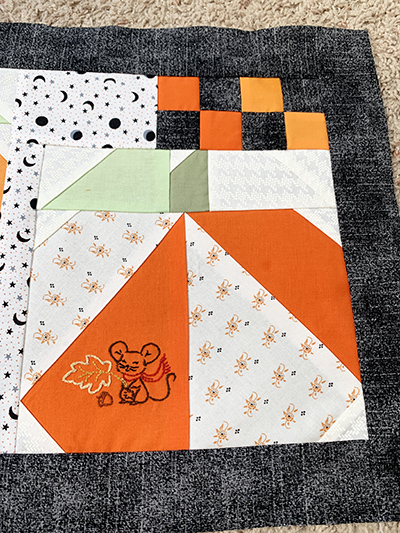 Topic starter
Posted : 12/09/2020 11:31 am
I have done something I've never done before: not followed directions! I have always been caught up in copying the pattern /art sample/tutorial/etc.  but since I have been working with available fabric stash (some quite small) , I decided to try my hand at making it up as I go along- after the pumpkin- apples were paper pieced 😉 Regardless of contest rules and regs, this is the first time ever I've done my own thing and I'm quite content with what I've been able to work out so far... 😍
Don't judge each day by the harvest you reap but by the seeds that you plant. RLStevenson
Posted : 15/09/2020 1:15 pm
 So I changed up the size on the border and the piece that makes the square. Not sure what you call that. Also the one rectangle. My trucks are 4" by 3". My grey border is 3" Same with the white piece. Of course they were trimmed to size. I just couldn't cut the truck or the words out. They were too pretty. I very much enjoyed this and now my family is asking for other things. Lol
It's beautiful Sylvia! I just love the little trucks in the fabric, very cozy design!
Topic starter
Posted : 18/09/2020 9:10 am
Thank you so much. I'm glad I learned how to do paper piecing. I enjoyed it. In fact I'm going to make another one.
Posted : 18/09/2020 9:13 am