Last updated on December 27th, 2018 at 02:58 pm
Save
Recipe card below!
Every Thanksgiving and Christmas we prepare our favorite dishes, with my husband having a big role in making the turkey and the fresh cornbread stuffing. A few years back he had the task of making our Thanksgiving feast for a house full as I was two days out of the hospital with our 6th baby.
Fresh Cornbread Stuffing
Here we go! The secret to this amazing tasting fresh cornbread stuffing is the fresh cornmeal. I mill popcorn, or field corn to get the freshest taste possible. If you don't have a grain mill, buy the best cornmeal you can find and just go for it!
Fresh Cornbread Stuffing Ingredients:
This cornbread needs to be cubed and dried and can be made two days before. You can also dry the cubed cornbread in the oven, which works great if you want to make the whole thing up and store in the refrigerator the day before the feast.
Print
Fresh Cornbread Stuffing
Milled corn is used in this recipe, or purchased cornmeal can be substituted. Fresh Cornbread Stuffing is delicious and one of our favorites to make on Thanksgiving. You can make it up ahead, but we normally bake 1 hour before dinner.
Scale
Ingredients
Cornbread
1 1/2

c. unbleached white flour

3/4

c. freshly ground corn – popcorn or field corn (or purchased cornmeal)

3 Tbsp

. fine brown sugar

1 Tbsp

. baking powder

1 tsp

. salt

1

large egg

1/2

stick unsalted butter – softened

1

 1/2 c. milk
Sausage Addition
2

lbs sausage – hot and sweet – cooked and drained
Saute:
2

sticks butter

2

large stalks celery

1

large onion

2 Tbsp

poultry seasoning

1 tsp

. sea salt

2 tsp

. ground pepper

2 Tbsp

. thyme
Add before baking
15 oz

. chicken broth – hold until putting stuffing together.
Instructions
We use two 9″ x 13″ pans. This recipe is pretty versatile depending on how much cubed stuffing you end up with.
For fresh cornmeal use a home grain mill, otherwise use purchased cornmeal.
Spray the pans. Using 9″ x 13″ pans makes a 'thinner' cake as we are cutting these into cubes afterward.
Mix the dry ingredients, making sure there are no brown sugar lumps.
Add the butter, egg, and milk. Whisk until well combined. Spread in your prepared pan.
Bake at 400 degrees for 25-30 minutes. Cool.
Cube and toast the cornbread in the oven – 350 degrees, turning often so not to burn. We toast the cornbread until lightly brown on all sides. Cool.
Sausage Addition
Cook and drain sausage.
Saute butter, celery, onion, and spices. Stir in cooked sausage.
If you have two pans, separate the sausage mix into the two cubed and dried stuffing pans and stir until well combined.
Split the chicken broth over both pans, stirring well. Add the chicken broth to moisten, not soak the cubes. You may need more or less.
Cover tightly with foil and bake at 350 degrees for about 35-40 minutes. Take off the foil and bake for an additional 15 minutes to crisp up.
Recipe Card powered by
Delicious cubed cornbread, ready to be baked or dried.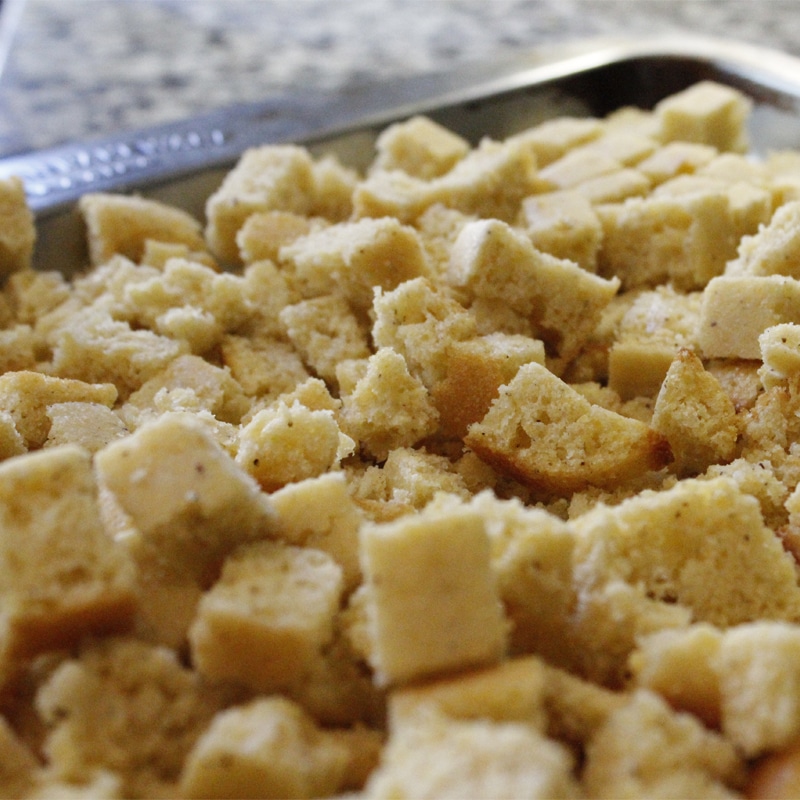 Save
This combination smells wonderful!!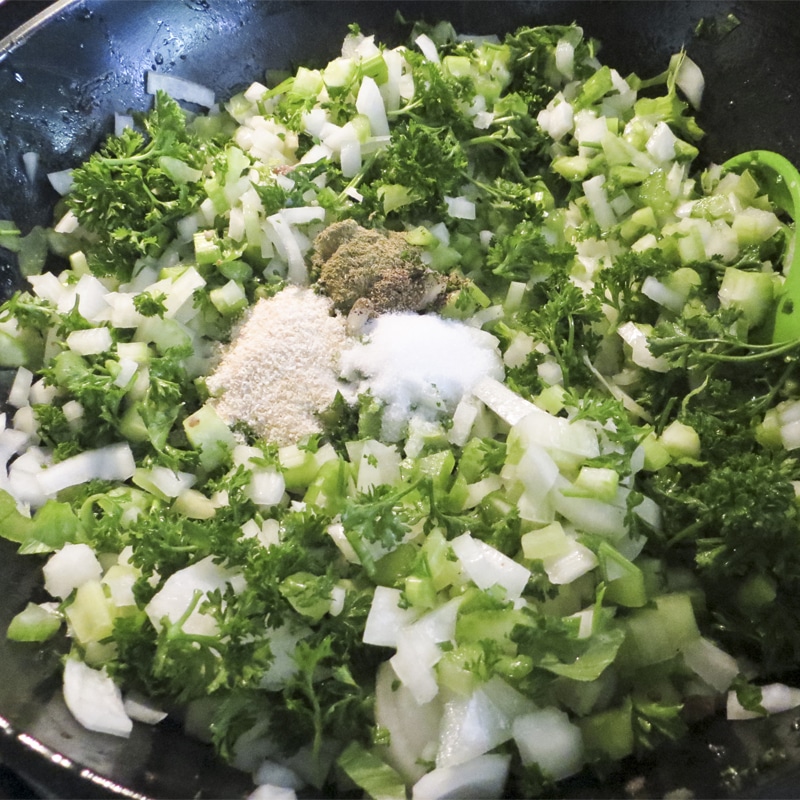 Save
Put the fresh cornbread stuffing together and bake!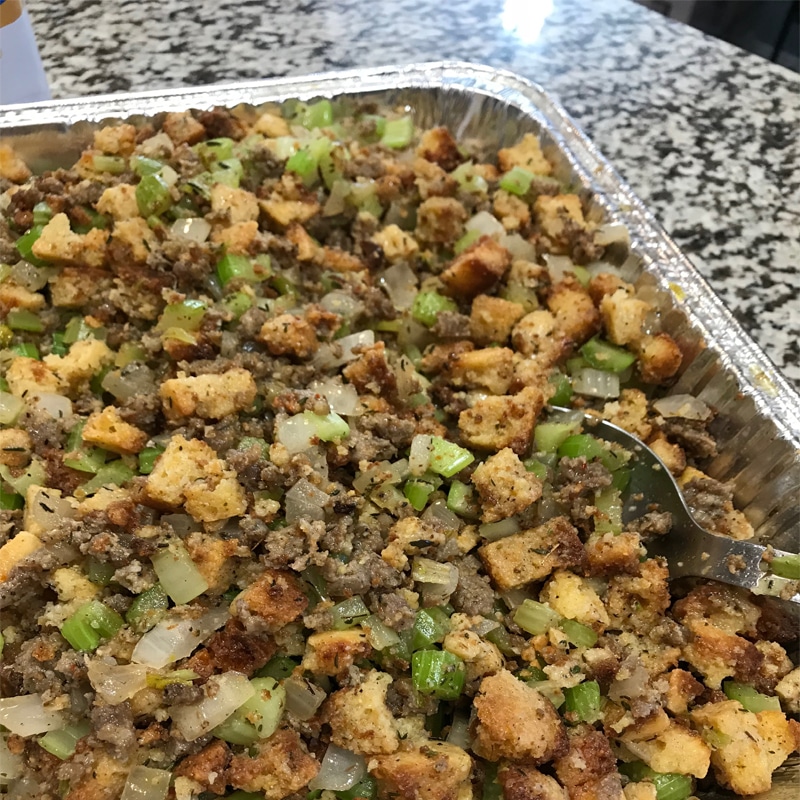 Save
Enjoy! Theresa