It brings me great joy to say that we are not gluten free, but we do have a lot of friends from our church who are gluten free. When you like to have people over for meals, or need to take someone dinner, a small handful of gluten-free recipes will always be helpful!
We had some friends over for dinner and I wanted to make something for dessert. Since I haven't really done any gluten-free baking, I wasn't sure what to make that was more creative than ice cream. Low hazard recipes are always best when you don't know much! I had seen almond flour in Sprouts and thought I would try it as a replacement for the chocolate wafers/graham crackers used in chocolate pie crust, and make a pie. It had a nice simple sound it…
It came out so good! Perfectly sweet, chocolatey, and even better, it didn't fall apart. A very easy recipe for the non-gluten-free baker.
Gluten-Free Chocolate Pie Crust 
This recipe made a little more than what I needed for a 9″ pie plate. You will either have a little leftover to freeze, or you can make a bigger pie! 


In a large bowl combine:
2 cups almond flour (or very finely ground almonds)
1/4 cup unsweetened cocoa powder
1/3 cup brown sugar
1/2 tsp. sea salt
Whisk together until blended. Stir in:
1/3 cup  melted butter
1 tsp. vanilla extract
1/2 tsp. almond extract
Stir with a spoon until the mixture is evenly moist and can be pressed together in your fingers. Press the mixture into a 9″ pie plate. Bake at 400 degrees for 12-15 minutes. Let cool, then chill until cold in the refrigerator. Ready to fill!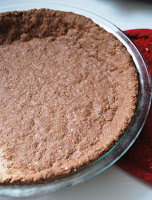 Unfortunately, I forgot to write down the recipe for chocolate cheesecake filling I made for this, but it was so very yummy! Perhaps I will have to make it again to post another time…
Have a blessed day! Jessica