Back in 2009, I added this tutorial to an online conference we did. I'd like to share it on our blog for those who would like to get their girls interested in learning embroidery stitches! It's a PDF, complete with audio to follow the steps. At the end, there are videos of several stitches, but I can't vouch for the clearness of them. Technology has come along and our Joyous Home website probably has better quality how-to-videos. In any case, you'll get the idea after listening to the audio and following along.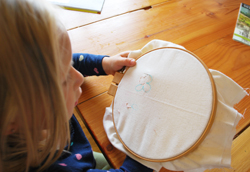 We just started teaching our 4-year-old some of the basic stitches. She has moved from just a line to a flower shape. Most mothers don't think you can start them so young. Long ago, 3-year-olds would learn embroidery! Culture is a bit different now, and that largely affects the skills, and at what age, we start.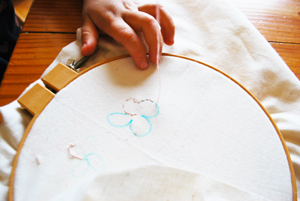 You would be surprised how well a young girl can do. We always use a hoop, it gives a lot of control. Start with a simple line, showing them the backstitch. I teach them to 'scrape' the fabric lightly with their needle, from the back, until they hit the line of where they need to be.
Don't expect their attention span to last more than 25 minutes when starting at a young age. Our little one will go for about that long, put it down and come back in a few hours. I hope you're encouraged to give it a try!
Download Embroidery Stitches to Teach Your Girls Here
You may have trouble downloading if you have a slow connection. To hear the audio, you MUST download first, save to your computer and then open in Adobe Reader. Get it here. If you can download, enjoy!
Blessings, Theresa