Joyous Home's Favorite Meatloaf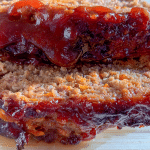 This is close to a dish we received one night after baby 9 was born. Oh, so delicious! The shredded carrot in this recipe is key to a yummy dish.
Scale
Ingredients
3

lbs ground beef

1

large onion chopped

1 cup

finely shredded carrot

3

eggs

1 cup

spicy panko crumbs

1/2 cup

barbecue sauce

1/2 cup

brown sugar

1 Tbsp

. salt

1/2 Tbsp

. pepper

1 Tbsp

. onion powder

1/2 Tbsp

barbecue seasoning (optional)
Instructions
Preheat oven to 350 degrees. Line two 9″ x 5″ dishes with foil or parchment. Each dish should serve 6-7.
Mix all the above ingredients together in a bowl.
Shape into foil lined pans.
Bake at 350 degrees for 1 hour, add more barbecue sauce to top.
Bake another 20 minutes, test for doneness.