Last updated on December 10th, 2017 at 07:22 pm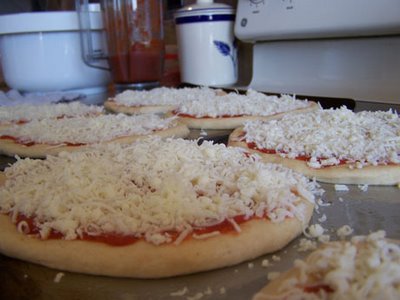 For many years, Friday night has been the night we make pizza. We have hardly tarried from this tradition for as long as I can remember. However, sometimes we just feel like having pizza twice for the week. I made these last week for lunch. Yummy! Very easy.. you shouldn't need directions once you get past the sauce… 🙂
Preheat oven to 425 degrees. In the Bosch mixer combine:
3 cups warm water
4 Tbsp. sugar
1 1/2 Tbsp. Real Salt (sea salt)
2 cups freshly ground hard wheat flour
1 1/2 Tbsp. SAF yeast (instant yeast)
Begin mixing. Add unbleached white flour, one cup at a time until the sides of the bowl are clean. Knead for 5 minutes. Allow to rest for 15 minutes. As a side note, this recipe also makes 3 regular size pizzas.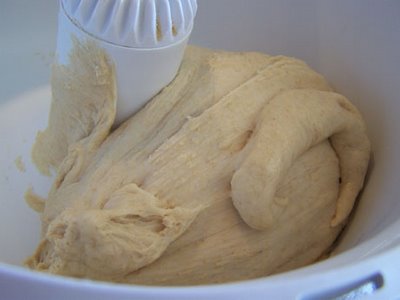 Our pizza sauce recipe ~ In a blender combine the following and blend well:
1 15-ounce can diced tomatoes
1 6-ounce can tomato paste
1 1/2 Tbsp. sugar
1/4 -1/2 tsp. Real Salt (adjust to taste)
1/2 tsp. thyme
1/2 tsp. basil
dash pepper
Pull off small balls of dough (how much depends on how thick you want the crust), flatten them out on greased baking pans, until they resemble small pizzas! I made mine about 5 inches in diameter. The rest of the recipe is layered as follows: sauce, cheese and toppings 🙂
Bake for 15-20 minutes. Or, as we sometimes say around here, "before the smoke alarm goes off"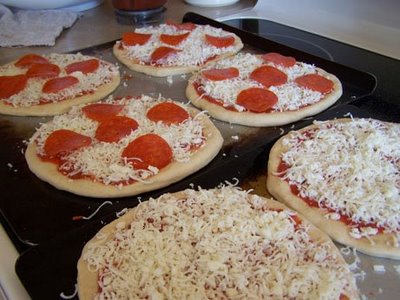 Blessings, Jessica