Last updated on December 27th, 2018 at 02:59 pm
We are looking forward to a little bit of beautiful snow tomorrow and seasonal temperatures, which is exciting when I've been trying to enjoy "fall" baking and cooking in very unseasonal weather. There is an excited baker over here! Pumpkin streusel muffins are in the oven. I'm cramming in all of my pumpkin baking before the whole season switches from pumpkin spice to peppermint and chocolate. Or has that already happened?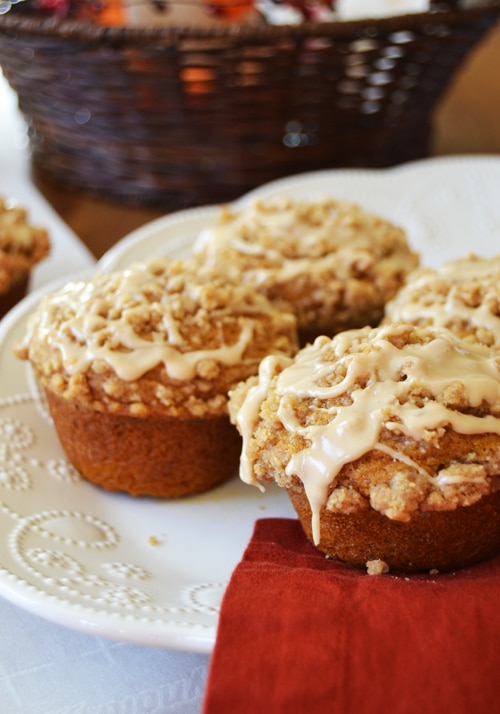 I'm still enjoying the pumpkin spice season… before pulling out the gingerbread and eggnog, which is very soon. Please do enjoy baking my very moist and yummy pumpkin streusel muffins in the spirit of enjoying a little bit of fall while the Christmas decorations go up around us!
Free Fall Coloring Pages
A side note before I share my recipe – My 2 year old is love loving coloring everyday, and I have found some great sources for cute, free fall printable coloring pages. Note: I didn't browse all of the content of these sites, and do not necessarily recommend them outside of the coloring resources they provide.
Raising Our Kids had some cute and fun, old-fashioned illustrations, loved these! – RaisingOurKids.com Fall Coloring Pages
And we love Charlie Brown over here, so these were a fun find. There are coloring pages for a few seasons here, including Christmas, so fun! – SuperColoring.com Peanuts Holiday Coloring Pages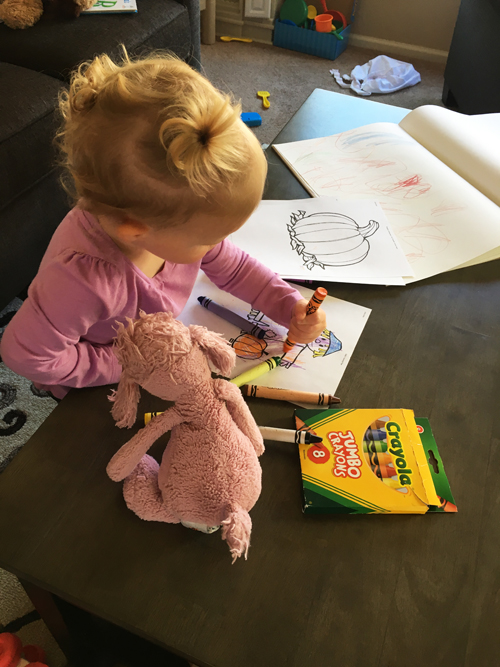 Pumpkin Streusel Muffins with Maple Glaze
I love these muffins. They are so wonderfully moist, and they keep very well. The maple glaze is totally optional, they are super delicious without the glaze. But if you are looking for a little extra decadence on top for a showy breakfast, then by all means, drizzle some on top of each lovely muffin. Also, I didn't use muffin tin liners. Just grease a non-stick muffin pan well before filling with batter.
~ Recipe Makes about 18 muffins ~
Grease a non-stick muffin pan with coconut oil or non-stick cooking spray. In a large bowl, whisk together:
2 cups unbleached flour
1 tsp. baking soda
2 tsp. ground cinnamon
1 tsp. pumpkin pie spice
1/2 tsp. sea salt

In a separate bowl, mix until smooth:
1/2 cup canola or vegetable oil
1/2 cup granulated sugar
3/4 cup packed brown sugar
2 cups (15 oz can) pumpkin puree
2 large eggs, at room temperature
1/2 cup sour cream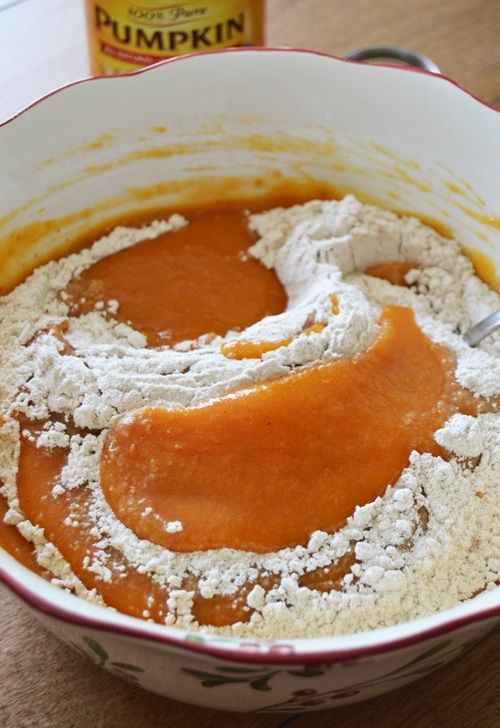 Make a well in the center of the dry ingredients, and pour the pumpkin mixture in the middle. Stir with a spoon just until the wet and the dry are incorporated. Don't beat the batter or over mix. Let the batter sit while you make the crumb topping.

Crumb topping
In a bowl, combine:
3/4 cup unbleached flour
1/4 cup sugar
1/2 cup packed light brown sugar
1 tsp. pumpkin pie spice
6 tbsp. butter, melted
Use a fork to cut the mixture together until it resembles crumbs.
Fill each muffin cup 2/3 full with batter and sprinkle each with about 1 1/2 tbsp. of the crumb mixture. Press the crumb mixture into the batter with your fingers just a tiny bit. Don't push the crumbs down into the batter, just enough to help them stick to the top.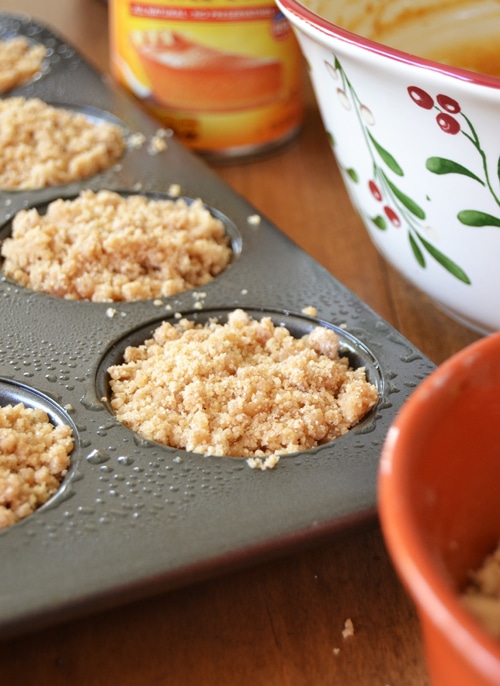 Bake at 350 degrees for 16-18 minutes, or until a toothpick inserted into the center comes out clean. If you are planning to make the maple glaze, make it while the muffins are baking.
In a small bowl, whisk together until smooth:
1 1/2 cups powdered sugar
1 tsp. corn syrup (helps the glaze to harden)
2 tbsp. pure maple syrup
2 tsp. milk (or just enough to make a drizzling consistency)
Cool muffins on a wire rack. Drizzle with maple glaze if desired. Serve immediately with hot coffee, or save for breakfast tomorrow. But you won't be able to wait until then to taste one!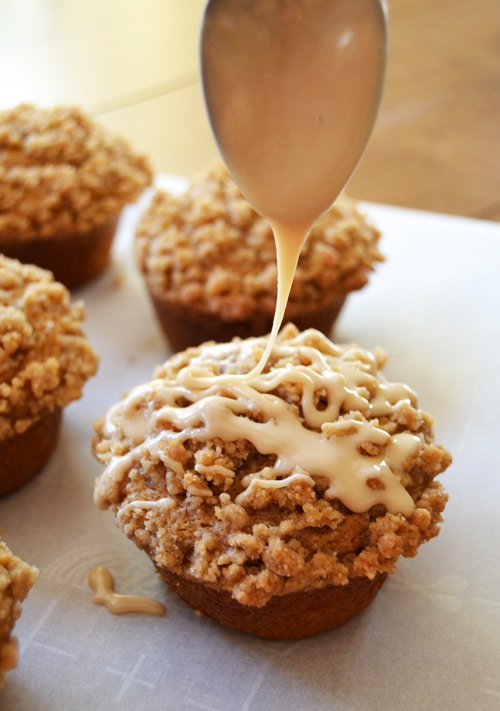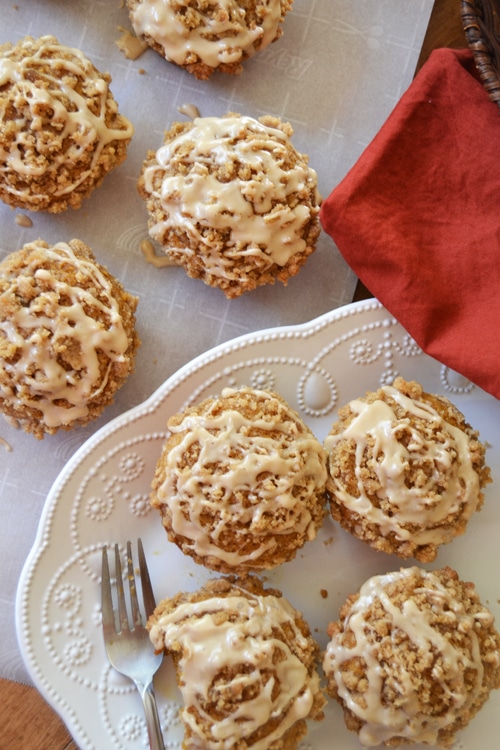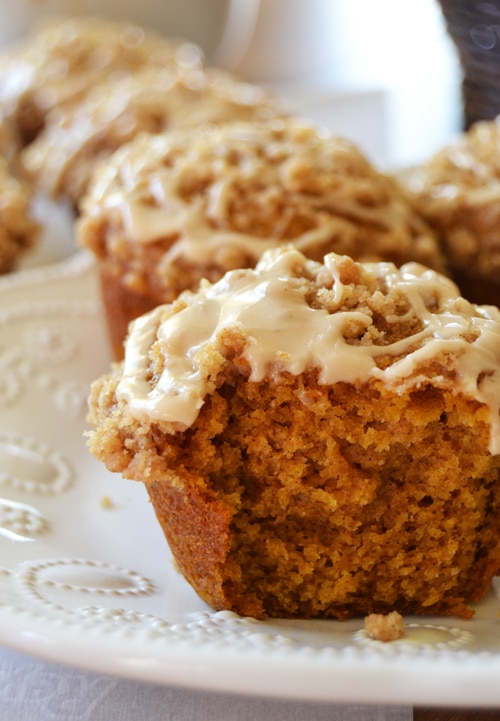 Absolutely delicious. Enjoy this lovely baking season with joy in the Lord! ~ Jessica
Need something for dinner? How about some homemade comfort food…