Salted Caramel Rice Crispy Treats
I have seen lots of recipes for salted rice crispy treats floating around, but most of them have way too much caramel in and on them! This is our lighter version of a delicious fall treat. These were delicious!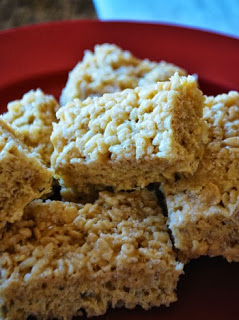 Salted Caramel Rice Crispy Treats:
Butter a 9″ x 13″ glass casserole dish and set aside. In a large pot melt:
5 tbsp. unsalted butter
2 tbsp. half & half
2 tsp. vanilla extract
30 unwrapped Kraft caramels
1 10 oz. bag of mini marshmallows
Melt together over medium heat, stirring constantly until smooth. Add 7 cups of crispy rice cereal and stir to coat. Press mixture firmly in buttered pan. Sprinkle with about 1 1/2 tsp. of sea salt or flaked sea salt. Flaked sea salt is wonderful for this, but I used our regular sea salt!
[col_wrapper]
[col3]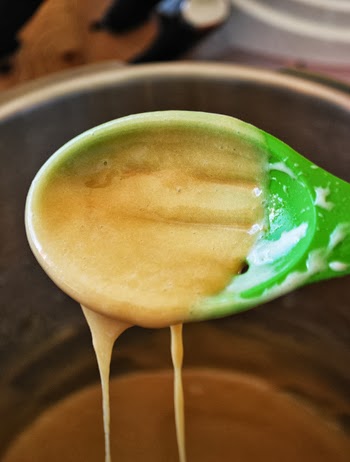 [/col3]
[col3]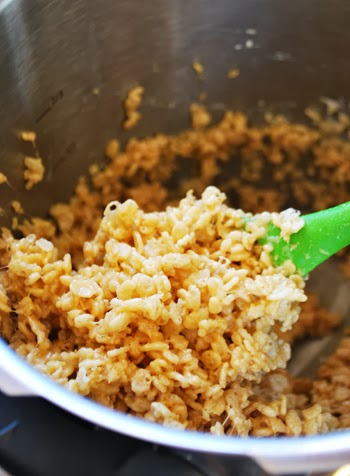 [/col3]
[col3_last]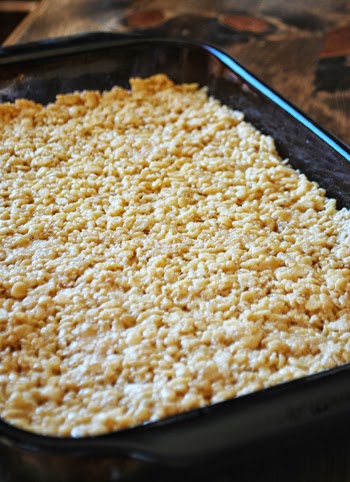 [/col3_last]
[/col_wrapper]
You can drizzle 1/3 cup of caramel topping over the bars before sprinkling them with salt, but I found them to be perfectly sweet enough! Cut the rice crispies into bars, and enjoy…
~ Makes about 18 treats ~
Apple Butter Pie Pops
These were fun, and the children enjoyed them! We cut them out with acorn-shaped cookie cutters. You will need cake/cookie pop sticks.
I used my recipe for Apple Butter that I made in the fall issue of Seasons at Home. But you can you use any apple butter, homemade or store-bought, they will still be good! You can also use apple pie filling, but I would blend the filling in the food processor slightly to chop the apples a little finer.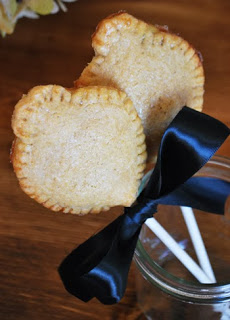 Cinnamon Pie Crust
In a small bowl, combine the following:
1 cup butter, cold
2 tbsp. sugar
pinch of sea salt
1 tsp. ground cinnamon
2 1/2 cups unbleached white flour
Use a fork or a pastry blender (a pastry blender will make fast work of this!), cut the butter and flour together until the mixture resembles coarse crumbs.
Drizzle with 1/4 cup of very cold water. Bring the flour mixture and water together with the fork, then use your fingers to form a dough. Do NOT knead the dough, just press the mixture until a dough forms. Chill for 30 minutes.
Line a baking sheet with parchment paper and preheat the oven to 350 degrees. Roll the dough 1/4″ thick between wax paper. Cut out shapes with a round cookie cutter. I would try to use rounder shapes, not shapes with a lot of points, like leaves.
Place cut-outs on the lined baking sheet, and remember when you position them that you need to have room for the cookie sticks! Fill the center of each one with 1 tbsp. of apple butter or pie filling. Place a cookie stick in the center as shown.
Cover with another crust cut-out and seal the edges by lightly pressing with your fingers and crimping with a fork. Brush with an egg wash or melted butter and sprinkle with sugar. Bake for 18-22 minutes or until golden brown. Cool and serve! For a party, tie each pop with colored ribbon!
Cinnamon Glazed Pecans
Line a baking sheet with foil and spray with non-stick cooking spray. Set aside. In a large bowl, use an electric mixer to beat 2 egg whites until frothy. Add 1 cup of sugar and beat for 1-2 minutes, 
until thick.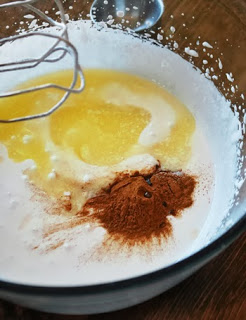 Add 2 1/2 tsp. ground cinnamon, 1/4 tsp. sea salt, 1/4 cup melted butter. Mix until smooth. Stir in 3 cups pecan halves. Stir until completely coated.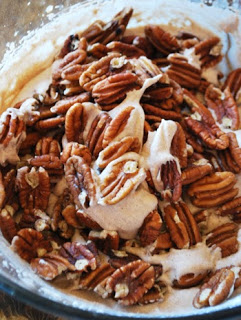 Spread evenly on baking sheet and bake at 350 degrees stirring every 10 minutes, for about one hour or until dry and crunchy.