Last updated on January 10th, 2017 at 04:05 pm
Puff pastry is such a fun thing to work with, and so easy. These are light and airy, filled with delicious spicy cheesy goodness! I made them to go with our potato soup (topped with bacon, cheese and green onion of course). If you are looking for a fun and easy bread stick, this is your recipe. You can try them as a dinner side or an appetizer. A hot dip would be really yummy with these, and of course they made the best soup dippers.
[clickToTweet tweet="Make Spicy Cheese Straws with Puff Pastry, learn how at Joyous Home!" quote="If you are looking for a fun and easy bread stick, this is your recipe. You can try them as a dinner side or an appetizer. A hot dip would be really yummy with them, and of course they make the best soup dippers!" theme="style1″]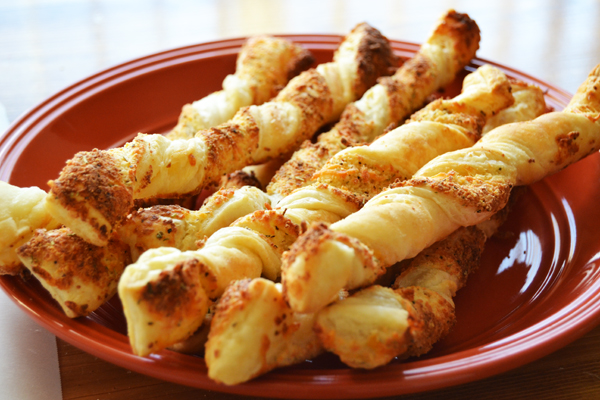 Spicy Cheese Straws
Recipe notes: The cheeses and spices in this recipe can be exchanged for anything you like. Try different cheeses (finely grated or shredded) and your favorite fresh or dry herbs. Don't roll out the dough too thin, but don't leave it too thick either. Is that confusing? If the dough is too thin you will have problems with the dough tearing, and if it's too thick the straws will be so thick that the outside will look done but the middle will be doughy. Other than that, this recipe is a cinch! 
You will need two sheets of puff pastry (normally sold two sheets per box, so that's easy). Thaw out the puff pastry for about an hour or overnight in the refrigerator. Lay out a large piece of parchment paper and dust it with flour. Cover two baking sheets with parchment paper. Preheat the oven to 375 degrees.
In a small bowl, combine:
1 cup grated Parmesan cheese
1 cup finely shredded cheddar (white or yellow)
2 tsp. chopped fresh rosemary (all I had was dry, but I wanted fresh!)
1 tsp. sea salt
1 1/2 tsp. black pepper
1 tsp. chili powder
In another small bowl, whisk together 1 large egg and 2 tbsp. water.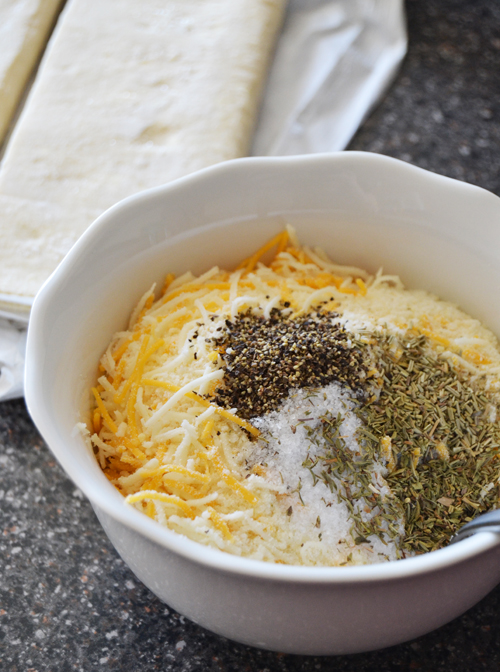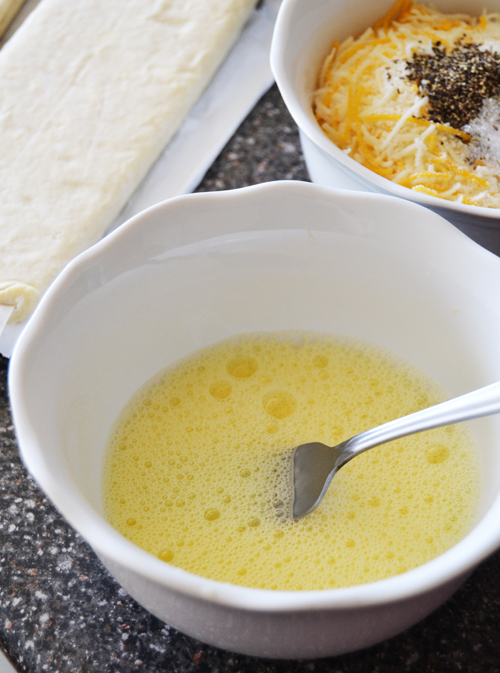 Open the thawed puff pastry dough very carefully on the floured parchment, and dust the top with a little extra flour. Roll out the dough to be about 10 x 12 inches. It's pretty close to this, so you don't have to roll much. Use a pastry brush to brush the dough with a very generous amount of the egg mixture.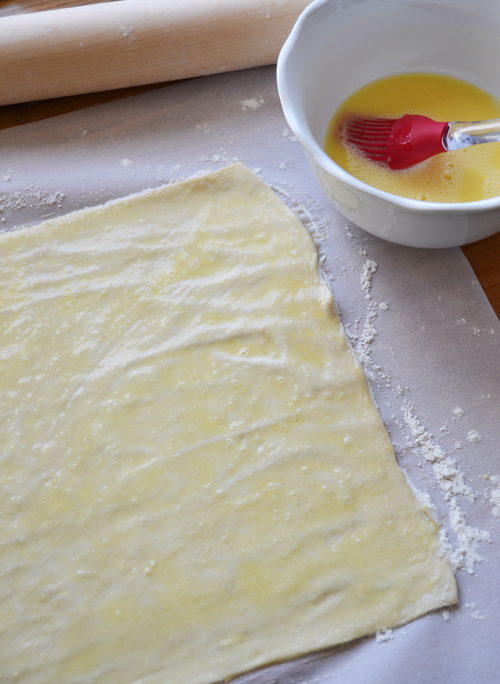 Take one half of the cheese and herb mixture and spread evenly over the dough. Press the mixture down into the dough a bit.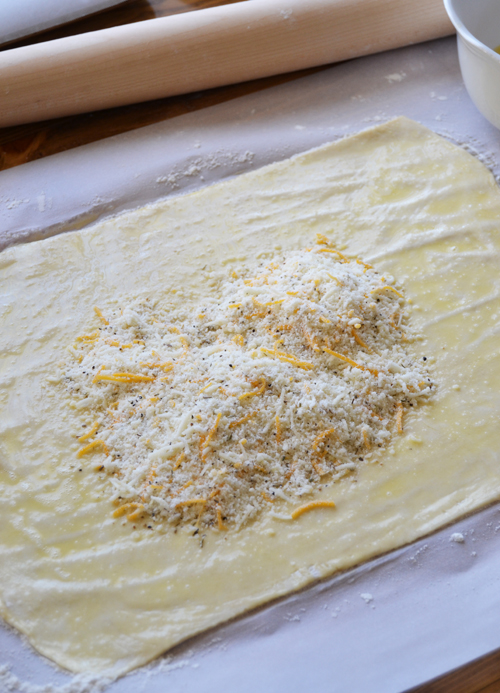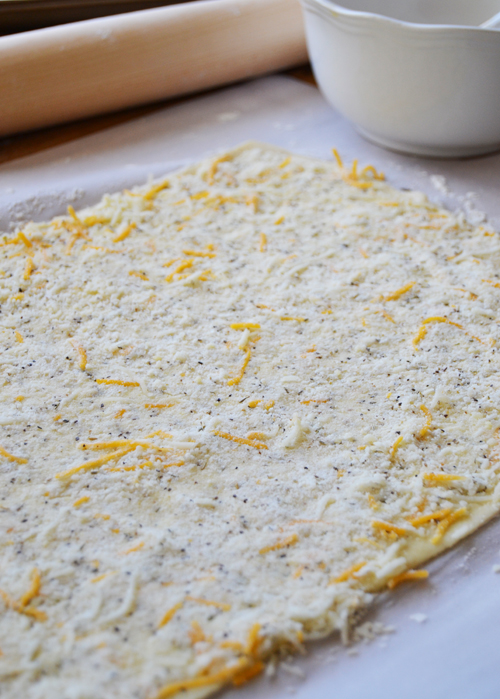 Can you believe that you're half way done with making these already? Okay, now use a pizza or pastry cutter to cut the dough into 1 inch strips.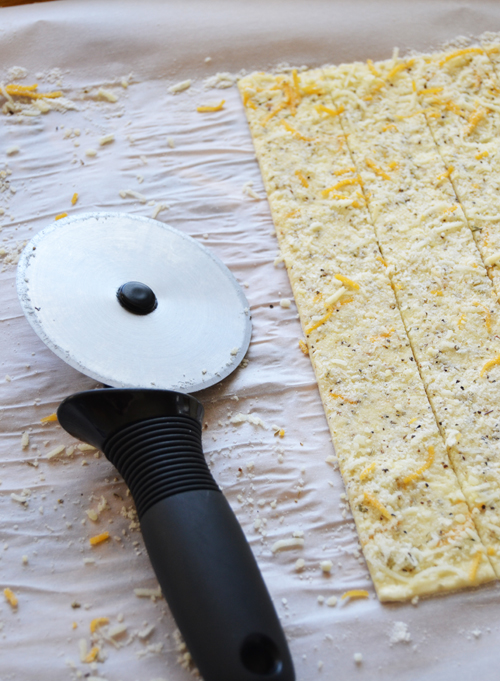 Now, carefully pick up each strip and lay it on the prepared baking sheet. TIP: I found that the straws show more of the yummy filling if you lay them on the tray cheese/herb-side down and then twist. Twist each strip like so…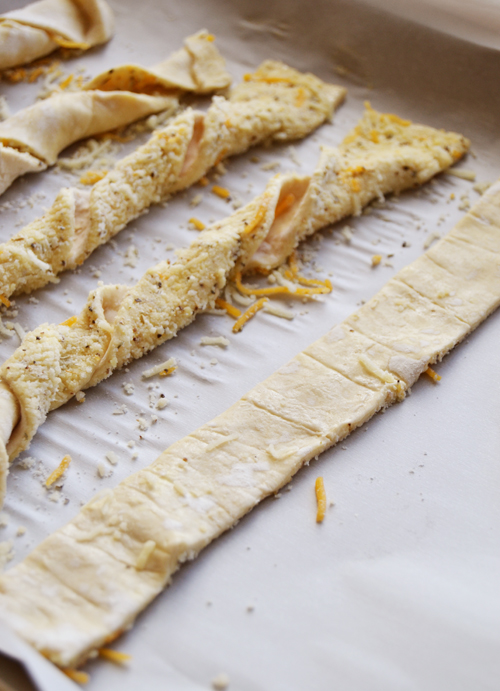 And soon you have trays that look like this! Aren't those beautiful?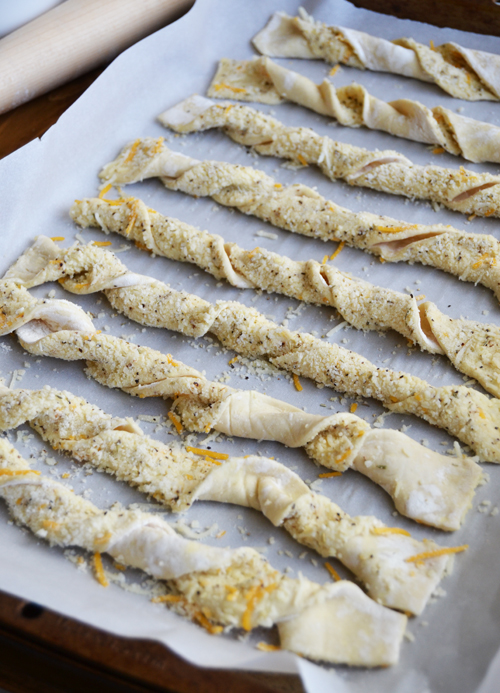 Now bake for about 15 minutes. They are done when they are a lovely golden brown. Cool slightly, but don't let it hold you back from just eating one. I should mention that they do reheat nicely (wrapped in foil at 200 degrees for a few minutes) if you are planning on serving them later. Freezing is also an option. 🙂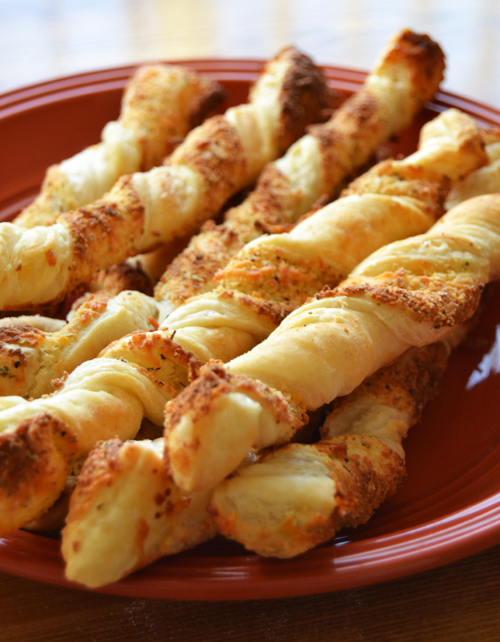 This is how we had ours, and oh my, it was good!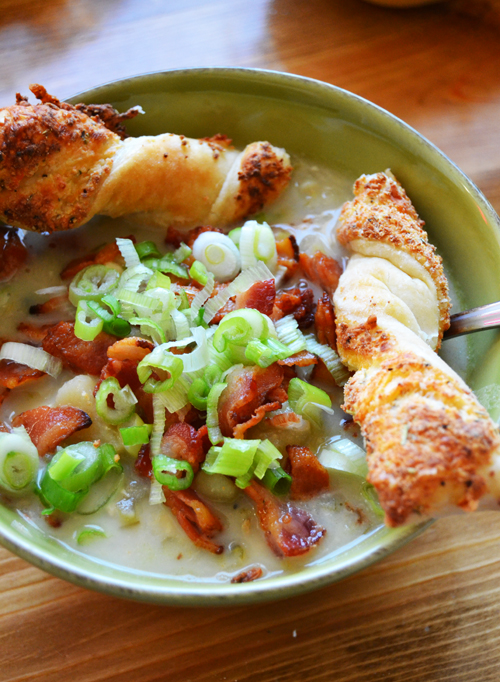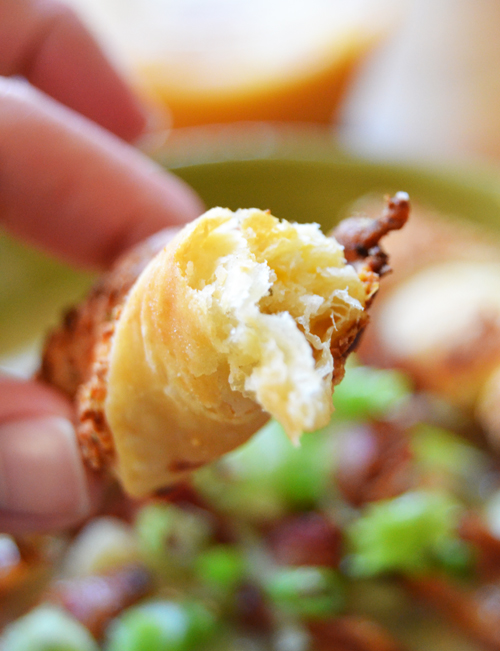 Flaky and delicious. Enjoy! ~ Jessica