Last updated on February 21st, 2019 at 05:45 pm
Another G.A. Henty story comes alive in Heirloom Audio Productions,  The Dragon and the Raven! Reviewing this was delightful, and it has fast become a family favorite.
Our children love a good history story, but they especially love stories told in dramatic form – stories like this stick to our conscience, produce good morals, and spur actions of valor and integrity.
[clickToTweet tweet="The Dragon and the Raven is a powerful story, on fire and full of action!" quote="The Dragon and the Raven is a powerful story, on fire and full of action!" theme="style1″]
This story is powerful, and on fire with action! What better way is there to have your children recall history than through a dynamic retelling of a great story?
When the Danes are violently running rampant through England, the courageous Saxons, with King Alfred and Edmund at the lead, stand up to fight.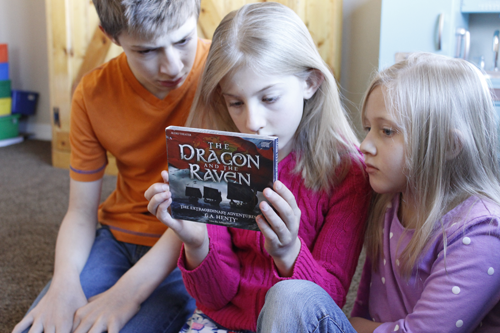 From the minute it came in the door, we couldn't wait to sit down and listen. The story is 2 hours long, and can be an unforgettable history lesson in one sitting!  The story, voices, drama and sound effects make this – WOW!
We had no trouble keeping the children seated. They even brought out legos to play with, but never touched them, it was terribly captivating!
Upon purchasing the single package, you'll receive:
The Dragon and Raven Audio CDs
Free Bonus #1: The complete The Dragon and The RaveneStudy Guide and Discussion Starter. 30 pages of The Dragon and The Raven discussion points, history-learning guides and story-related Bible study.
Free Bonus #2: A beautiful, printable copy of the inspirational verse (Proverbs 21:31) as quoted by King Alfred in The Dragon and The Raven.
Free Bonus #3: The Official The Dragon and The Raven Soundtrack MP3 download.
Buying Option:  Purchasing the Family Four-package includes 7 BONUSES. See them all by clicking the link. The bonuses are wonderful and extremely interesting. It was a treat to see how the audio was made and the live action. This helped the children remember even more.
The Study Guide
The study guide was excellent help in gauging their listening. I found it very easy to use. It gave three different sections – Listening Well, Thinking Further and Defining Words. The first asks questions about the track just listened to. The second engages more thought from the listeners to dig in deeper. There are also hands on activities to try if you'd like.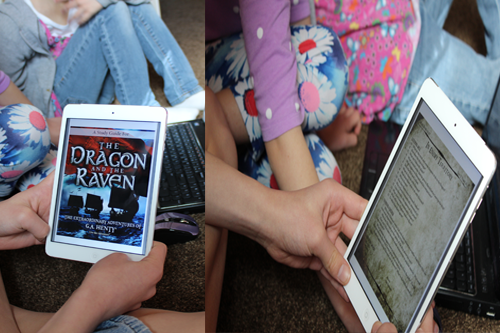 My suggestion is to listen to the entire story once without stopping. Once this story gets rolling, it's VERY hard to stop and ask the children questions. I got the 'are you kidding mom?' look. So don't try it.
Go back and listen again. Believe me, you'll want to go back and listen again! We went back a third time and listened to favorite parts again. I used the study guide both times.
Printing the Study Guide
I was finally pushed to figure out how to get things on my iPad for ease of using the study guide. While many people love using digitals, I struggle with it. I'm a paper and ink gal, I love to hold written words in my hands. The study guide can be printed, but not without the graphics and background – OR if it's possible, I couldn't figure it out on my printer. An easier printing option for us 'of the other kind' would be great. This definitely was not a negative on this product! I liked grabbing my iPad in the end, and thought, wow, easy! iBooks…who knew.
MUCH MORE!
Heirloom Audio Productions offers LivetheAdventureLetter.com. This site was a nice discovery on top of the great audio! Recipes, homeschooling articles, activities and more! Be sure to check it out and subscribe to their newsletter.
The Dragon and Raven is an excellent story told in an audio theatre production you won't forget, and  absolutely will not be sorry you purchased. Make your next history lesson an audio, grab it today!